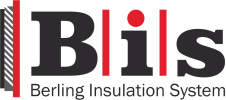 External thermal insulation: technology and ecology
A key factor affecting the energy performance of a building is the thermal insulation capacity of the elements that form their external facades. The external thermal insulation of the building shell, described by both the external vertical walls and the horizontal ones (roof, balconies, exterior ceilings) achieves the uniform distribution of temperature in all its interior spaces, reducing the transfer of temperature between the external and internal environment to minimum. The feeling that the end user experiences is the one described as thermal comfort, keeping the house cool in the summer and warm in the winter.
Berling Ιnsulation System
means technological development with excellent results. Provides incomparable advantages that improve our everyday life.
Thermal efficient and aesthetic upgrade of buildings
Reduction of energy needs and the annual cost of energy consumption
Investment with certain reimbursement of expenses
Environmental protection
Lower consumption of energy resources while reducing emissions that affect it
Contributes to environmental sustainability
Reduction of emissions that affect the building
Practically, BIS "embraces" every part of the external façade of the building,
protecting all the places that allow the flow of heat into the environment and in this way do not create thermal bridges. As a result of perfect application and protection, no sources of condensation of water vapor and mold are formed in the inner walls, while it restores areas with cracks or with an increased risk of forming cracks.
BIS keeps the walls warm,
in times of cold weather, since it accumulates heat in the masonry, while in the summer period prevents excessive heating of the wall. The installation works of the BIS System in the external masonry does not prevent the smooth operation and use of the building and of course does not reduce the useful interior spaces.