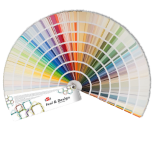 Berling's new FEEL & DESIGN color palette has arrived to revive the senses, recall memories and evoke emotions. Now, we can open our eyes and discover color beyond its literal meaning. We can feel the whole spectrum of human emotions through the shades and combinations of the unique FEEL & DESIGN palette, fill us with joy, give us smiles, offer us a sense of calmness and harmony, as we travel to cherished moments. By incorporating our aesthetic choices, we can create spaces that reflect our personal style.
The FEEL & DESIGN palette was created based on the many years of experience of our scientific staff and was inspired by our desire to offer an unprecedentedly unique color selection experience. For easier selection, the palette is organized by color scale. With more than 504 new shades, designed to meet your unique needs, the palette is here to harmonize each color individually and adapt to every surface – from walls, woods and metals to chalk colors, which give a vintage feel and romantic mood indoors and outdoors.
Note:
The color samples photos may deviate from reality because of the limitations of each screen display or printing For the full range of shades visit your nearest paint shop
Tip 1: We recommend visiting the closest paint shop and asking for our colorcard or create a sample for you.
Tip 2: Before painting interior or exterior surfaces we recommend asking for the specifications, surface preparation and any technical points in order to ensure great paint application results!
Tip 3: Choose the color code you like and ask for the quantity you want.
Θέλεις να λαμβάνεις τις ενημερώσεις μας;
Απεχθανόμαστε τα spam όσο και εσύ.